I. Release Notes
Current Version: 6.1
Requirements: Ossn >= 6.0
License: GNU General Public License v2
II. Purpose and Usage
A showcase inspired by https://www.opensource-socialnetwork.org/discussion/view/5330/componernt-switch-to-dark
!! DO NOT USE THIS COMPONENT FROM THE START IN A PRODCUCTION ENVIRONMENT !!
It will be Your task to interactively sort out the colors you want to change, first, and then save the derived classes in the CSS file.
The idea behind this component is to reverse the foreground and background colors of a theme with just one click in the end. The developer console of your browser will assist you with some ready-to-use suggestions, but there's still a lot to be fine-tuned. Thus even a CSS wizzard should expect at least 1 hour getting finished.
Almost every line of code is comprehensively commented and therefore interesting for everyone who wants to get into the development of Ossn components and themes in general
III. Changes
Version 1.0 shows how to
derive sliding switches from standard bootstrap checkboxes (thanks to Jan Enning, see https://kleinejan.github.io/titatoggle/ )
add a new page to your site -> open `https://YOURSITE/color_toggle`
use jquery to change the fore- and background color of your site
Figure 1
Version 2.0 shows how to
implement the sliding switch by means of javascript
make it easily accessable from the center of every page now
Figure 2
Version 3.0 shows how to
use a Cookie to permanently save a once chosen color mode in the member's broswer, making it obsolete to switch to darkmode on every page again and again
Version 4.0 shows how to
append a custom menu entry to the topbar menu
jquery to exclude some parts of the dom tree from traversing
use the browser's console.log utility
use a red colored helper class to mark elements of interest
Figure 3

Version 5.0 shows how to
add a new menu section tab to the account settings page. it's up to you to keep both Darkmode checkboxes in place or just use one of them
Figure 4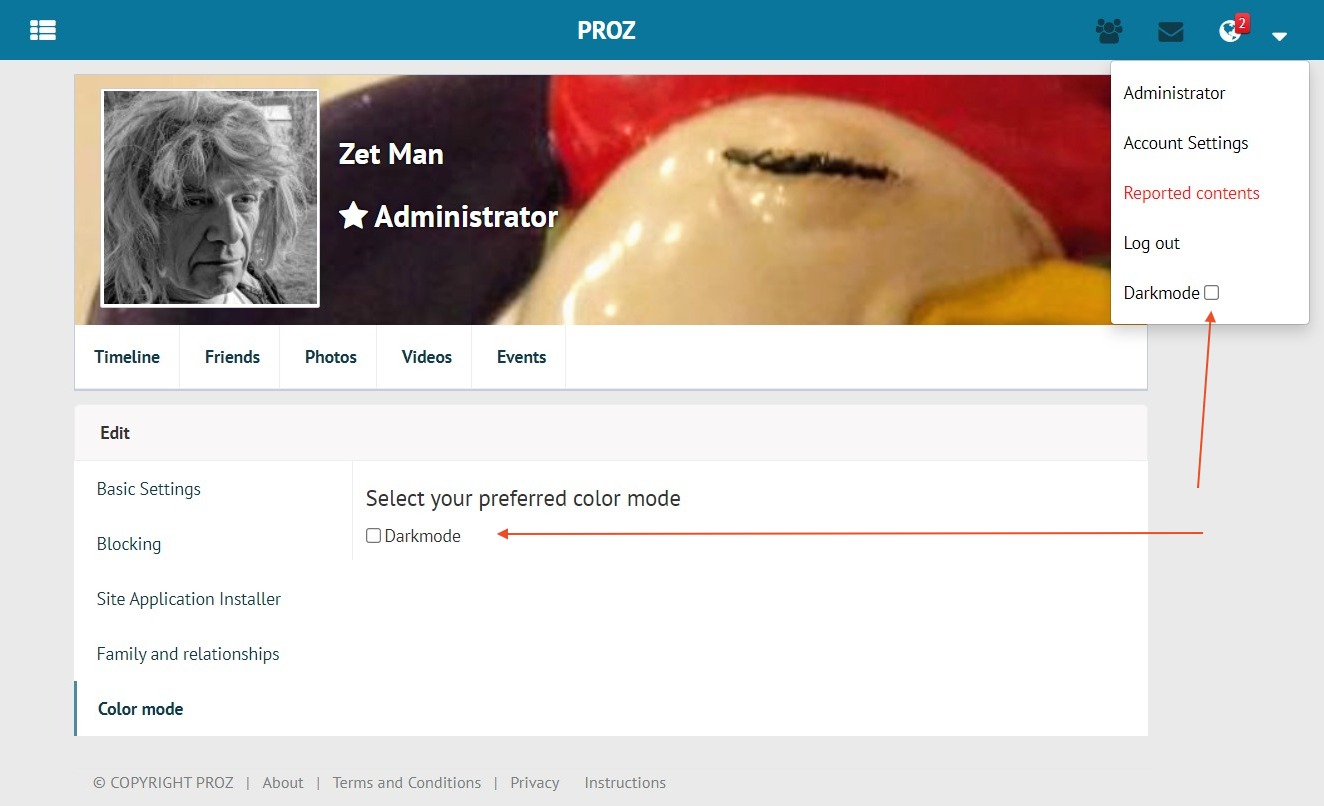 Version 5.1 will
show how to pass a value of a PHP variable to Javascript
fix a glitch which was causing some 'light on light' background / foreground pairs
display ready-to-use classes in the console log window
add support for multiple themes
Version 6.1
has been verified to work flawlessly with Ossn 6.0 and PHP 8
is using Ossn's own Cookie get and set functions
comes with a complete set of language files
has been renamed to Color Reverter because it will revert the colors of ANY theme, light to dark and dark to light