{ "com_id": "ContactSuggestions", "latest_version": "7.1","ossn_version_prefix": "7.1", "works_on_latest_version": "yes" }
I. Release Notes
Current Version: 7.1
Requirements: Ossn >= 7.1
GDPR affected: No
License: GNU General Public License v2
II. Purpose and Usage
This component adds a widget with up to 10 random contact suggestions to either the right column on large screens or on top of the newsfeed on small devices.
Figure 1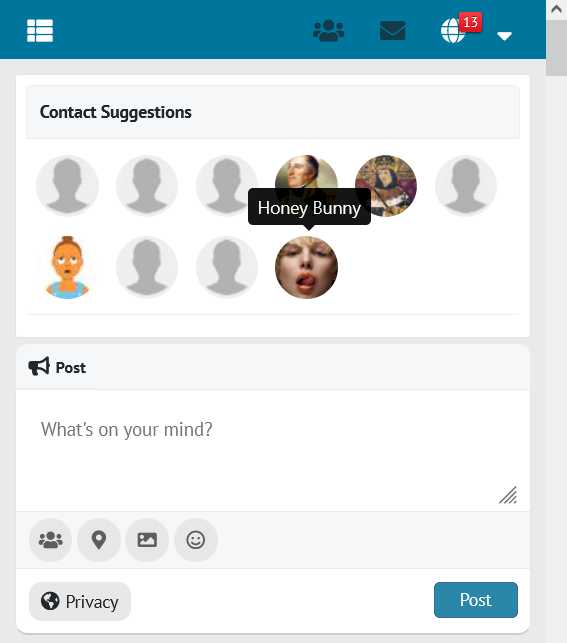 Your members can decide individually whether and where they want the widget to be displayed: in the right column and/or in the news feed, or on a separate page that can be accessed from the main menu.
Figure 2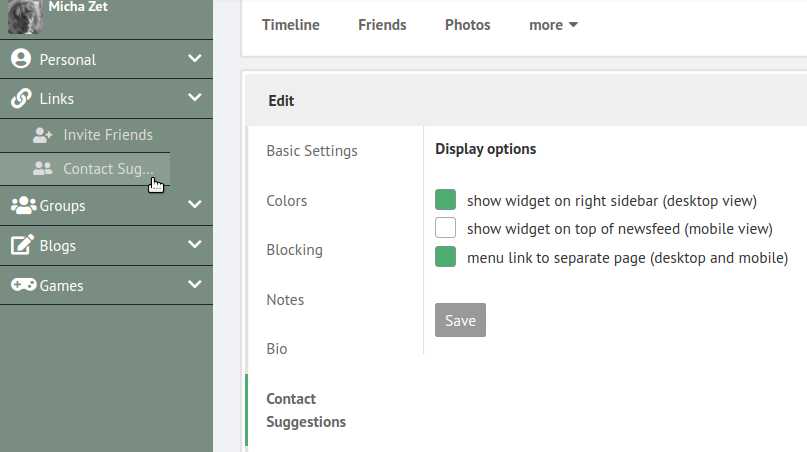 It's recommended - but not mandatory - to install the Profile Views component in parallel to exclude already visited members from the suggestion list.
The current suggestion logic is still fairly rudimentary:
don't display members you're already friends with
don't display members you have blocked
don't display members you have visited already (when Profile Views installed)
So, volunteers are welcome to create those additional database queries giving more meaningful results. :)
III. Changes
V 7.1
added Hungarian language file
V 6.3
added: display options to account settings page
fixed: exclude still unvalidated members from suggestions
V 6.2
centered and more narrow placement of member icons in widget (same as with White theme and Latest Members component)
V 6.1
Ossn 6.x support
verified PHP 8 compatibility
page loading speedup
Outdated Ossn 5.x releases
V 1.1
fixed issue if Autopagination is disabled
V 1.0